Wat heb je nodig?
2 kilo Zeeuwse mosselen
Verse saffraandraadjes
Wat groenten, zoals ui, knoflook, prei, wortel en selderij
1/2 theelepel kerriepoeder
1/2 chilipoeder
Witte wijn, natuurlijk Italiaans
Kookroom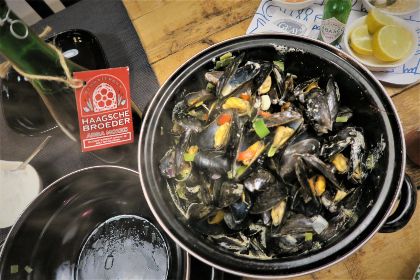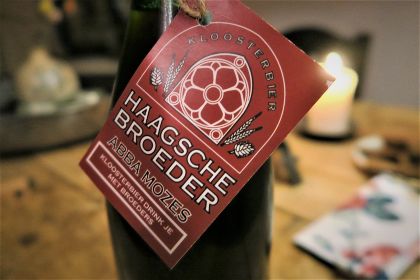 Hoe maak je het?
Laat de verse saffraansteeltjes een tijdje hebt laten weken in een beetje heet water. In het oorspronkelijke recept stond 5 minuten, maar daar hielden we ons natuurlijk niet aan. Wij deden dat veel langer. Ondertussen spoel je de mosselen in de wasbak met koud water af en controleer je of er kapotte of openstaande mosselen bij zitten. Gooi die maar weg. Daar wil je geen risico mee lopen.
Loop naar de koelkast en kijk wat voor groenten je nog over hebt. Wees creatief: wortel, ui, knoflook, prei, selderie, kool. Snij de groenten en fruit deze een paar minuten in de mosselpan met een weinig olijfolie. Doe dan de mosselen er bij. Voeg de saffraan, een flinke scheut witte wijn en de kerrie- en chilipoeder toe.
Zet het vuur hoog en laat de mosselen in ongeveer tien minuten gaar worden terwijl je af en toe de mosselpan met de deksel er op schudt. Kijk goed, als de mosselen klaar zijn, gaan ze openstaan. Voeg aan het einde een scheutje kookroom toe en laat dit nog even warm worden. Niet te lang want anders gaat de room schiften. Dien de mosselen op in de mosselpan met twee borden en open je fles Abba Mozes. Natuurlijk kun je ook nog wat sausjes er bij serveren, maar eigenlijk is dat weer eeuwig zonder van de saffraan en het bier.
De bierpairing
De Abba Mozes is een bier van brouwerij Haagsche Broeder door sommigen (lees: Follow the Beer) ook wel de beste brouwer van Nederland genoemd. De naam Abba Mozes (4e eeuw) verwijst naar één van de woestijnvaders die aan de wieg stond van het kloosterleven zoals de Haagsche broeders dat nu kennen. De eenzaamheid en ontberingen van het leven in de wildernis droegen bij aan zijn spirituele ontwikkeling.
Dat kan een mooie parallel worden genoemd met dit zure bier dat zijn complexiteit ontleent aan een wilde gisting en rijping op houten vaten. De zilte, friszoete smaak van de mosselen in combinatie met de frisse zure smaak van de wijn en bittere smaak van de saffraan en het zuur van het bier, maken deze beerpairing weliswaar geen spirituele ervaring, maar wel een ervaring.