Wat heb je nodig?
Voor een grote pan (in de onze kan maximaal 9 liter):
3 liter water
1.200 gram groen spliterwten (er bestaan ook gele spliterwten, dat is louter een kleurverschil, ze smaken hetzelfde als de groene; let op: we gaan voor dikke erwtensoep waarin je lepel rechtop blijft staan, zoals erwtensoep hoort, dus in tegenstelling tot de meeste online recepten verdubbelen we de hoeveelheid spliterwten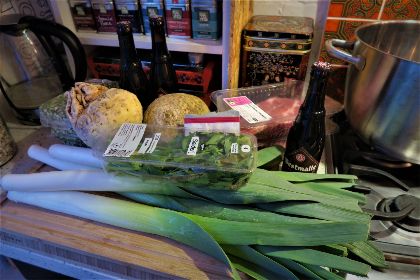 En verder.....
4 schouderkarbonaden, 2 laurierblaadjes, 2 knolselderijen, 4 preien, 50 gram verse selderij en natuurlijk 2 rookworsten.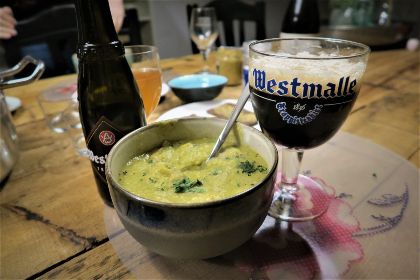 Hoe maak je het?
Breng in een soeppan het water, de spliterwten, de karbonaden met de laurierblaadjes aan de kook en laat dit met de deksel op de pan een half uurtje op een laag vuur zachtjes koken;
Schil ondertussen de knolselderijen en snijd deze in stukken van ongeveer 2 centimeter (dat is geen exacte wetenschap of hogere wiskunde), was de preien en snijd in halve ringen en snijd de selderij fijn;
Neem de karbonaden uit de pan en snijd in kleine blokjes;
En verder....
Voeg de knolselderij, prei en ¾ van de selderij toe en roer door en laat de soep nog een half uurtje doorkoken totdat alle groenten gaar zijn. Roer regelmatig;
Leg ondertussen de rookworst in een pan water soep en laat  deze ook een half uurtje zachtjes koken;
Stamp de soep een paar keer door met een stamper of pureer de soep;
Breng op smaak met wat zout en peper;
Haal de rookworst uit de pan, snijd in plakjes en roer deze samen met de karbonaden door de soep;
Serveer de soep in diepe borden of soepkommen. Garneer met de rest van de selderij. En serveer er roggebrood met katenspek bij.
De bierpairing
Omdat erwtensoep behoorlijk zoet van smaak is en het zuur van de door ons geliefde sours er wat schril en schraal bij af zouden steken, pairden wij onze erwtensoep met het zoet van de Westmalle Dubbel, niet geheel toevallig het favoriete go-to bier van één van onze gasten. Twee vliegen in één klap: hij blij, zij blij, wij blij, soeppie lekkah!