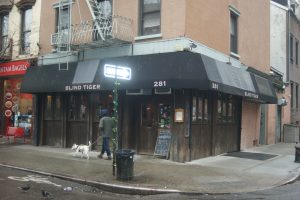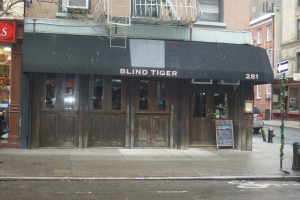 Over Blind Tiger
Lang voordat er ook maar sprake was van de term 'craft beer', was de Blind Tiger Ale House op de Bleecker Street (Manhattan) al een icoon in de New Yorkse bierscène. De Blind Tiger werd geopend in 1995 en dankt zijn naam en faam aan zijn zorgvuldig samengestelde bierkaart en dito bar food. En dat is terecht. Met 28 bieren van de tap die regelmatig wisselen, 1 cask en ongeveer 50 bieren op de fles, is het hier een waar bierfeestje. Maar bovenal, de Blind Tiger is een echt café, zonder moderne industriële opsmuk, een plek waar we meermalen kwamen en ook nog vaker terug zullen keren. Dat is een belofte die we ons wel konden doen. Je kunt er dagelijks vanaf half twaalf terecht tot diep in de nacht.
Wat we er dronken, hebben we niet bijgehouden. Maar hier zijn een paar voorbeelden van wat ze op dit moment op de kaart hebben: Allagash Hoppy Table Beer (4,8%), Pizzo Boy Sour Murren Riveer IPA (7,4%), Night Shift Santilly IPA (6%), Strong Rope So Dark So Early (7,8%), Alpine Windows Up IPA (7%), Central Waters Bourbon Barley Wine (11,2%) en Alesmith Mokasido Coffee Speedway (12%). Maar de kaart wisselt snel, dus als je een dag later komt, ziet het er waarschijnlijk al weer heel anders uit.
Adres: 281 Bleecker Street, Manhattan, New York, website
In de buurt
Bleecker Street, tussen 6th en 7th Avenue gecombineerd met Cornelia Street and Carmine Street, is een straat waar je goed kunt shoppen en lekker kunt eten en drinken. Je kunt je er prima een paar uur vermaken. En als je nog niet genoeg hebt gehad bij de Blind Tiger, kun je ook eens binnenlopen bij het Upright Brew House op 547 Hudson Street. Of combineer kunst en bier bij de Arts and Craft Beer Parlor op 26 W 8th Street. Andere tips in de buurt zijn de Chelsea Market, de Comedy Cellar en  het NYU Skirball Center for the Performing Arts.